Love Knots is a floral boutique located in the heart of Jamestown. As a floral boutique we cater to the specialty needs of our clientele. Looking for a bouquet for a special occasion? Give us a call and we will create something beautiful just for you! We also offer delivery to local hospitals, funeral homes, and throughout West Michigan. Looking for a fun ladies-night-out with the girls or a quaint bridal shower/bachelorette activity? Schedule a workshop time and we will open the boutique for a special night of hands-on creating with your group (advance booking is required).
Getting married? It's YOUR day! At Love Knots Floral you are a name, not a number. Whether you are a do-it-yourselfer, like to be hands on, or prefer full-service florals, we have the gorgeous blooms to fit your needs. We offer a complimentary consultation and are ready to help create florals that add a personal flair to your wedding. We strive to make each wedding unique and individual, just like you. Let our creative edge bring your wedding dreams to life!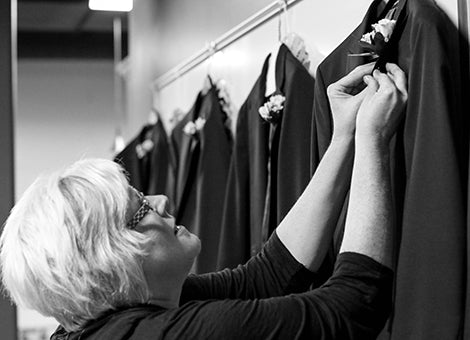 Meet the Designer
Meet Love Knots' lead designer, Celeste Stob. I have been designing for the past 22 years and I love bringing beauty into life's special moments. What started as a few weddings for family and friends has blossomed into an amazing career and I have been privileged to play a part in almost 4,000 weddings and countless life events. I am a classically trained florist and I enjoy the challenge of keeping up with ever-changing floral trends. Whether creating floral touches for joyful celebrations or arrangements that bring peace to difficult times, I am honored to be able to make someone's day a little brighter.